ADVANCING CLINICAL & TRANSLATIONAL SCIENCE
Recent News
Second Annual Regional Diabetes Symposium a Resounding Success
North Carolina A&T joined forces with North Carolina's three translational science institutes (UNC-CH, Duke and Wake Forest), partnering to lead the North Carolina Diabetes Research Collaborative (NCDRC). For the second consecutive year, N.C. A&T hosted the NCDRC Regional Symposium, inviting researchers from North Carolina and surrounding states to meet to develop translational, cross-institutional projects in the realms of diabetes, obesity and metabolism. The President-Elect of the American Diabetes Association presented a keynote address on the status of diabetes, nationally, followed by presentations regarding local diabetes research advancement at N.C. A&T, UNC-CH, Duke and Wake Forest.
Dr. Mohd Anwar Named to 2018-2019 Class of RTI University Scholars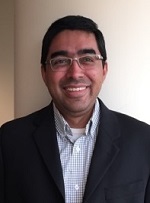 Dr. Mohd Anwar is the first N.C. A&T faculty member to be selected as an RTI University Scholar. The RTI University Scholars Program, in its fourth year, supports highly-talented academics who take scholarly leave from their home institutions to collaborate with RTI researchers. Anwar, an associate professor in the Department of Computer Science at N.C. A&T, will collaborate with RTI's Kevin Conway, Ph.D., and Steve Cohen, Ph.D., to gather meaningful and actionable insight on the opioid crisis using social media. This year's class of RTI University Scholars includes researchers from Duke University, N.C. A&T, North Carolina State University and the University of North Carolina at Chapel Hill. 
Click here 
to learn more about the RTI Scholars Program.
New Pilot Funding Opportunities Unveiled at Regional Diabetes Research Symposium
On March 16th, diabetes researchers from across the state convened in Greensboro for the first annual Regional Diabetes Research Symposium, which was hosted by N.C. A&T in collaboration with Duke University, UNC-Chapel Hill and Wake Forest University. The universities are interested in promoting inter-institutional collaborations in diabetes research as part of the new North Carolina Diabetes Research Center (NCDRC). Pilot funds are now available for eligible new investigator teams! N.C. A&T faculty should notify Meriel Parker and Dr. Moige Ongeri via email, prior to submission of LOI to the NCDRC. Those whom the NCDRC invites to proceed with a full proposal, shall submit an NOI to the Division of Research and Economic Development. Letters of intent are due by April 2, 2018. Click herefor more information about applying for pilot program funds.
This pilot program is designed to encourage and facilitate novel basic clinical and translational research. Eligible projects will demonstrate a clear path to attracting subsequent grant support, new company formation, licensing, not-for-profit partnering or other channels. Projects must have a clear diabetes focus and involve co-principal investigators at a minimum of two of the four institutions above.
"N.C. A&T was pleased to host the Regional Diabetes Research Symposium, which created an opportunity for North Carolina's diabetes researchers to learn about the research strengths and cores of each partnering institution," said Meriel Parker, Director of Life Science Research at N.C. A&T. "We are eager to witness the diversity of diabetes research proposals, which culminate from the symposium and this unique funding mechanism."
The event featured presentations from physicians at three of the state's medical schools. "Multi-center applications require a history of collaboration and justification, with an emphasis on bringing new diabetes investigators in," said Dr. Donald McClain from Wake Forest University. Dr. John Buse of The University of North Carolina at Chapel Hill said, "The environment is a large focus at UNC-CH and an area of great opportunity in diabetes research." Dr. David D'Alessio at Duke University conveyed his enthusiasm about this regional cooperation. "One advantage of the partnership is the complimentary science of the institutions."
The one-day event was held at the Union Square Campus in Greensboro, convening around 100 researchers from across the translational spectrum who are interested in developing cross-institutional projects in diabetes, obesity and metabolism. The event featured presentations, workshops, networking opportunities, information about the pilot research award opportunities and the core research initiatives which are being led by this regional consortium. Lunch and attendance were free, and plans are underway for a similar event next year.
N.C. A&T's Dr. Ongeri Awarded $1.42 Million NIH Grant
N.C. A&T's Dr. Ongeri Awarded $1.42 Million NIH Grant to Study Kidney Disease
Associate Professor Dr. Elimelda Moige Ongeri, in the Department of Biology, has been awarded a $1.42 million grant from the National Institutes of Health (NIH) and the National Institute of General Medicine (NIGMS) to investigate acute kidney disease initiated by ischemia/reperfusion (reduced blood flow to the kidneys and subsequent oxygen deficiency).
Acute kidney disease costs tens-of-billions of dollars to treat each year, and is associated with extremely high mortality rates because there are no effective therapies. Dr. Ongeri's work will focus on determining how meprin metalloproteases (meprins are enzymes, abundant in proximal kidney tubules) influence ischemia/reperfusion-induced kidney injury via modulation of inflammation and fibrosis.
Previous studies by Dr. Ongeri's group and other N.C. A&T investigators utilizing meprin knockout mice have shown that meprins enhance kidney damage associated with ischemia/reperfusion, however, the underlying cellular and molecular mechanisms are not fully understood. This research will advance understanding of kidney disease and the development of effective therapies.
This individual research grant was awarded under the Support of Competitive Research (SCORE) Program. SCORE is a research capacity-building program that seeks to increase the research competitiveness of faculty at under-resourced institutions with limited NIH R01 funding that have explicitly stated historical missions or historical track records focused on training and graduating students from groups nationally underrepresented in biomedical research. Past SCORE grant recipients at N.C. A&T include Dr. Robert Newman, associate professor in the Department of Biology, and Dr. Yeo Heung Yun, associate professor in the Department of Chemical, Biological and Bioengineering.
SOLAR Program
N.C. A&T master's student Amirah Burton hails her summer research experience at Chapel Hill as one of the greatest decisions she has ever made. Burton was chosen to represent N.C. A&T last summer in the UNC SOLAR program, which stands for Summer of Learning and Research. It's a 10-week program for underrepresented college students from across the nation wanting to participate in biological and biomedical research, for which Chapel Hill is known.
Burton served under Dr. Jean Cook, a UNC-CH researcher and associate professor in the biochemistry and biophysics department. Dr. Cook is also the Associate Dean for Graduate Education at UNC-CH. Cook's lab focuses on studying cell activities such as growth, duplication and division as they relate to cancer. "It was great being part of such important work," explains Burton. "I benefited from understanding the processes and techniques that occur daily in a lab setting. Dr. Cook's lab was truly impressive and I got a very accurate idea of what a world-class research lab offers students. It was a great experience." Burton, a native of Greenwood, South Carolina, wants to get her Ph.D. in nutrition; she is interested in studying how nutrition impacts the human body, including the role of various foods in the prevention or formation of disease.
In addition to enjoying the daily lab experience, program participants prepare for grad school entrance exams, present in a final poster forum and enjoy weekly journal clubs and social interactions with other students from across the country. For N.C. A&T students who are interested in the UNC SOLAR program, Burton says, "Be ready to work, be confident in your academic strengths, yet willing to learn and absorb from those around you, and network while you're there, because the weeks really fly by!"
Learn more about how to apply to the SOLAR Program.
N.C. A&T's Clinical Immersion Experience
Five N.C. A&T students spent two summer weeks at UNC hospitals and clinics in Chapel Hill, North Carolina, shadowing doctors and clinicians as part of N.C. A&T's first Clinical Immersion Experience. Kierra Fleming, Lauren Florence, Marlayna Jackson, Rina Mudanyi and Jerria Turner, all bioengineering or chemical engineering students at N.C. A&T, witnessed firsthand the clinical needs of physicians, rehabilitation professionals and nurses as they relate to bioengineering applications. Dr. Matt McCullough, associate professor in the Department of Chemical, Biological and Bioengineering, founded the immersion program through a grant from VentureWell. The students will apply knowledge gained during the clinical experience in their upcoming year-long capstone course experience.
Jerria Turner, a senior biomedical engineering student from Chesterfield, Virginia, participated in the program. "I first learned about the clinical immersion experience from Dr. McCullough. As he told me more about it, my interest grew because I had always wondered about the clinical side of biomedical engineering applications, and I knew this experience would provide answers for me."
Turner said it was time well spent. "This experience definitely reassured me that I am pursuing and studying exactly the right things. I am more confident than ever about my chosen path, because I know the topics that my peers and I are researching and studying in class are preparing us to be individuals that will change and improve the lives of many in the future. I definitely see myself working in the clinical field. I loved meeting and talking with the different patients. When you create something as an engineer you know it will help or improve someone's life or their daily functions, but when you're able to meet one of those people face to face, what you created means more. You believe in the positive impact of what you created or designed because you witness a human being benefiting from it."

Contact:
LifeScienceResearch@ncat.edu 
https://twitter.com/ncatlifescience